We are only three days into Spring Training, and the Washington Nationals have already made it almost all the way around the National League East.  After facing the Mets and the Braves, the Nationals played host to the Miami Marlins today at Space Coast Stadium in Viera.  Doug Fister made his first start in a Nationals' uniform, while Brad Hand got the ball for the Marlins (insert your own Fister-Hand joke here).  The Nationals ended up taking the game by a score of 10-3, compiling a total of 11 hits; here now is the good, the bad, and the ugly from today's game.
THE GOOD
— Doug Fister came out of the long winter looking everything like the pitcher the Nationals hoped he would be when they sent Robbie Ray, Ian Krol, and Steve Lombardozzi to Detroit to acquire him.  He locked up the first batter he faced, left fielder Matt Angle, on a curveball away.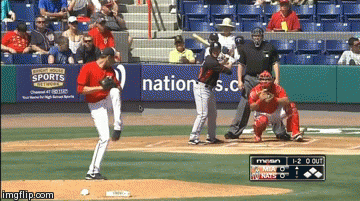 He then got the very next batter, shortstop Donovan Solano, to swing through an 86 MPH sinking fastball that started on the corner and ended up a foot inside: 
Fister's next frame was less smooth — he gave up a run on a couple of hits and a walk.  But nothing about his outing was cause for worry; if this game is any indication, the Fister acquisition will look like a very smart one come the regular season.
— After putting up a strong .825 OPS against them in his fantastic 2012 season, Adam LaRoche struggled mightily against left-handers in 2013, with his OPS dropping almost 250 points from the previous year.  So this swing off of lefty Brian Flynn was an encouraging sign:
— Zach Walters' spring couldn't have started out any better.  After adding two hits today (an RBI triple from the left side and a single from the right), Walters is now 5 for 5 in three games.  Additionally, while his minor league defense has raised concerns, Walters made several impressive plays today, including this one: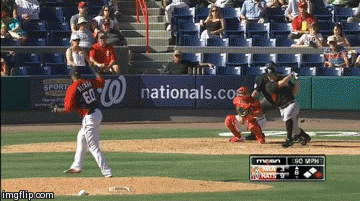 Walters still only has an outside shot at the Opening Day roster.  But if he keeps playing this well, it will be very difficult to keep him from making the trip to New York come March 31st.
— Wilson Ramos, making his second start of the spring, added two more hits (including an RBI single) in three at-bats.  Jeff Kobernus had an RBI triple.  Matt Skole added a two-run double.   Steven Souza, Jr. smoked a double to left, and Brock Peterson added a hit.  All told, it was a good day for the Nationals' offense.
THE BAD
— Jayson Werth was scheduled to make his spring debut today, but was scratched from the lineup early this morning for heretofore unknown reasons.  For a player with the lengthy injury history of Werth, any scratch is cause for concern.  But this is very likely nothing to worry about — Werth may have just wanted another day or two before facing live pitching.
EDIT: It's a right bicep strain for Werth. Should only keep him out a couple of days, but still something worth watching.
Plus, how can this man be described as ugly?
THE UGLY
— If Eury Perez stands any chance of sticking at the big league level, he has to do so by becoming a weapon on the basepaths.  He absolutely cannot afford to do things like this:
While there is some doubt as to whether Perez was actually out, there's no question that a baserunning specialist shouldn't be fooled that easily by a pickoff move.  Perez may be fast, but his baserunning still needs work.
WRAP-UP
The Nationals improve to 3-0 in Grapefruit League play, handing the Marlins their first loss of the spring season.  Tomorrow, the Nationals head to Legends field to play the Yankees; Ross Detwiler will make his first start of the spring.  The game starts at 1:05 PM, and will be televised on YES.